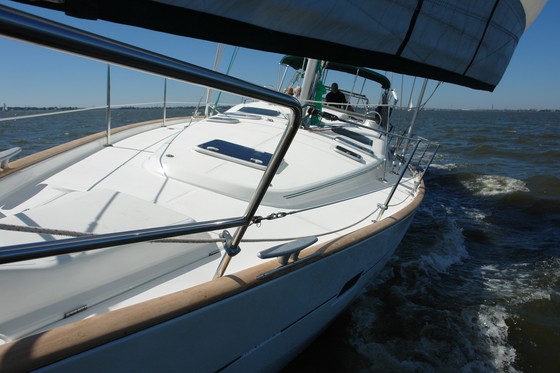 Beneteau 423 "The Teitel Wave"
The signs on our front windows were done by Houston Sign Company www.HoustonSign.com
Welcome to Bay Area Sailing School
20th Anniversary
Last Update Sunday, September 15

We are open 7 days a week

We are offering $100 discount on Teitel Wave, Beneteau 423
for charters 9/9 - 9/19 and 11/4 - 11/24
Teitel Wave is the boat in the picture at the top of the page
-------------------------------------------------------------------------------------------- Instructor Qualification Clinic

Bay Area Sailing School is hosting an Instructor Clinic starting Saturday, October 26.
This is an opportunity for experienced sailors to become
ASA certified to teach ASA sailing courses.
Instructor certifications will be offered in 201, 203, 204, 205, 206, and 214 (Catamaran)
A catamaran review on the water is available Friday, October 25 for $250

Go to the tab "Becoming an ASA Instructor" on the left side of this page for more details

_______________________________________________________
based upon number of certifications issued
TOP TEN ASA SCHOOL WORLDWIDE
based on number of certifications issued
Learn to Sail at Bay Area Sailing School
Learning to sail is easy, fun, and affordable
Learn to Sail in 2 Days
FREE CHARTER and Mentor Session included

We are having an ASA 101 Class next weekend, 9/21-9/22

Learn at Bay Area Sailing School where we have
ASA 101 and Combo (ASA 103 & 104) classes most weekends
_______________________________________________________

******************************************************************************
4 Spaces in the Combos (ASA 103 and 104) three day courses
September 20-22 and every weekend thereafter
Save $80 off of Combo price

when you place a deposit for both ASA 101 and the Combo course at the same time. $300 deposit total for both courses reduces the Combo course to $592.48 from $672.48.

Schedule when you are ready
Private Combos during the week only $1540 for one or two people

Only $100 for each additional person

(Any three days Monday through Thursday)
Please note specials do not apply to weekday private courses

****************************************************************************************
Private ASA 101 during the week only $586 for one or two people.
Only $100 for each additional person
**********************************************************
The ASA 105 Class for September 21 has 2 spaces available

******************************************************************************

Call us at 281-334-4179
Email us at Sailing@BayAreaSailing.com
Open 7 days a week
*****************************************************************************************
Bay Area Sailing School

is the leader in sailing instruction, sailing lessons, and sailing workshops for Texas, Kemah, Galveston Bay, Houston, and Clear Lake area. With our sailing club

Bay Area Sailing Association

, and charter company

Sackett's Sailing Center

, we are a full service sailing organization.

Our home port at

Watergate Marina

in Kemah, Texas provides sailing courses certified by the American Sailing Association from Basic Keelboat sailing, to Advanced Coastal Cruising. Gain the confidence to crew or skipper boats to 26' in our Basic Keelboat course, and to 50' in our combined Basic Coastal Cruising and Bareboat Charter courses. For the sailor that dreams of owning a boat and cruising the Caribbean or sailing the world, Coastal Navigation and Advanced Coastal Cruising are also offered.

Click here

to learn more about any of these courses. We offer our Basic Keelboat Class every weekend, and our Combo class most weekends.The Coastal Navigation course is offered each quarter.

Graduates will enjoy our exclusive free sailing and sailing club membership opportunities.

Since 2001, Bay Area Sailing School has won the ASA "School of the Year" award 2 times (2001,2002) and the "Outstanding Instructor of the Year" award 7 times (2001,2004 & 2006) (2 in 2005), (2 in 2017 - Jon Jones and Vernon Lemex)..

We want to teach you how to sail, and keep you sailing. On successful completion of the Basic Keelboat course graduates receive certificates for a free mentor session of about 4 hours with an instructor, and a

Free

half day charter on a 27 ft.boat. Our mentor sessions are with several other graduates and an instructor aboard. We also offer private Mentor Sessions where you will not share the boat or instructor with other students. The private Mentor Sessions will allow time for at least two hours of sailing. The private Mentor Sessions are $250 and you can bring family or friends with you (up to four).


You will still have your free Mentor Session on Saturday morning to use.

Free charters

are on full size wheel steered boats instead of smaller tiller steered boats used at other schools. You can take up to five of your friends or family with you on your

Free charter

. Our instructors will spend whatever time it takes to give you the confidence to take your friends sailing - with you at the helm. Note: The free mentor session and charter are not offered at our satellite school.

At Bay Area Sailing School, your satisfaction is guaranteed. We want you to have fun, learn how to sail and tell your friends about us. If you're not satisfied - tell us. We'll give you the course over again, with a different instructor, FREE!

Use the navigation side bar on the left to learn more about all of our services. If you would like to enroll in a class, schedule a charter or just ask a question, please contact us at

(281)334-4179Go to FAQs (Frequently asked Questions)ASA Certification Fee. $39.00 is included in our course fee, no added fees

.

Beginning Oct. 1 2007, ASA requires all schools to pay a $39.00 certification fee for first time students. This fee includes a 3 month membership in ASA .

Call us today!

(281) 334-4179

or we'll call you

Send questions or comments to Sailing@BayAreaSailing.com

Located in Kemah, Texas - Clear Lake area

Directions

Copyright © 1999 Bay Area Sailing School